There are no known or suspected incidents of direct or indirect exposure to the Ebola virus among members of the University of Louisiana at Lafayette community.
The University is following the guidance of the U.S. Centers for Disease Control and Prevention (CDC), the Louisiana Governor's Office of Homeland Security and Emergency Preparedness, and the Louisiana Department of Health and Hospitals.
In an effort to keep students, faculty, staff, and visitors to our campus informed about the current situation related to reported and suspected cases of Ebola in the U.S., UL Lafayette offers the following information. These resources are for general education and awareness purposes to assist the University community with taking preventative measures against and identifying the symptoms of the Ebola virus.
What is Ebola?
Ebola, previously known as Ebola hemorrhagic fever, is a rare and deadly disease caused by infection with one of the ebola virus strains.  Ebola is transmitted by direct contact with body fluids of a person who has symptoms of Ebola disease.
What are the symptoms of Ebola?
Fever
Severe headache
Muscle pain
Weakness
Diarrhea
Vomiting
Abdominal (stomach) pain
Unexplained hemorrhage (bleeding or bruising)
Symptoms may appear anywhere from 2 to 21 days after exposure to Ebola, but the average is 8 to 10 days, according to the CDC.
What preventative measures can be taken to minimize exposure to the Ebola virus?
Currently, there is no FDA-approved vaccine available for Ebola. If you travel to or are in an area affected by an ebola outbreak, the CDC recommends preventative measures. If you or someone you have had personal contact with has recently visited Africa, closely monitor your health for 21 days and seek medical attention immediately if you develop any symptoms of Ebola.
For information from the CDC regarding advice for university-related travel, click here.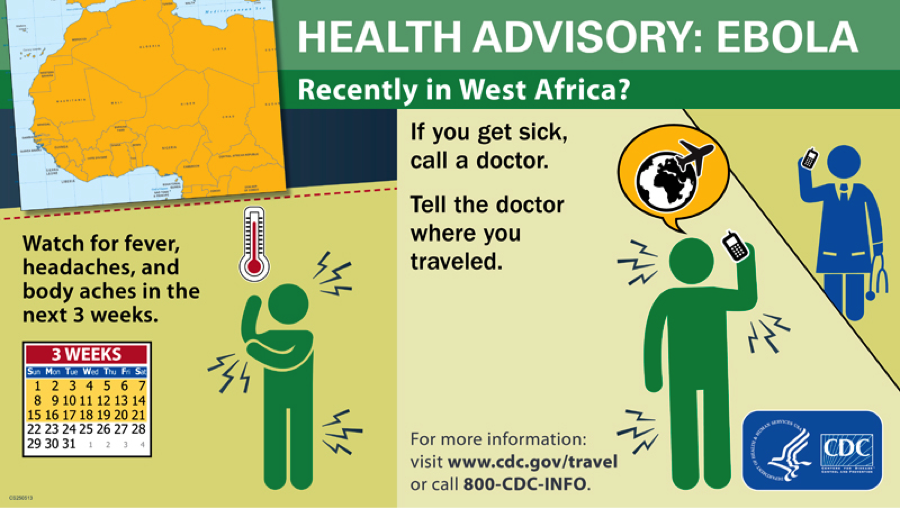 University updates and support
Continue to monitor UniversityUpdates.com, an official UL Lafayette website, for the latest information and updates regarding the health and safety of the University community.
The Saucier Wellness Center is available to provide students, faculty, and staff members with information and guidance regarding the Ebola virus. Contact (337) 482-5464 or SHS@louisiana.edu
Students, faculty and staff members are encouraged to stay current with the University's Emergency Notification System by logging onto ULink and verifying your contact information. Alerts can be distributed via text, cell phone calls, university-wide emails, and social media, as well as posted on official University websites.
Members outside the University community, as well as those within, can follow ENS alerts at UniversityUpdates.com or subscribe to the alerts feed.
For more information about the University's Emergency Notifications System, visit http://safety.louisiana.edu/resource-center/emergency-notification-system